So why the best acoustic guitar under $100? Well, a better question before delving into this matter at all would be: "Can you buy a good acoustic guitar for under $100?" Believe it or not, there are actually some pretty solid instruments you can fetch for this price.
It could be the fact that the competition boosted manufacturers to make better instruments or just technological advancements, but after sifting through the market, we were able to single out four guitars with outstanding value for money.
What makes a good cheap acoustic guitar is first and foremost the ability to deliver strong basses and low-end frequencies, which is a common problem among budget instruments. Additionally, other standard factors apply – solid overall sound, durability, price and reliability. (Disclaimer: Though these products usually are under $100, there are price fluctuations. The real, current price is the one found on the Amazon page.)
Here are our reviews of the the 4 best acoustic guitars under $100 on the market:
Rogue RA-090 Acoustic Guitar
First up is a great bang for your buck option: the Rogue RA 090 and it packs about the same punch as the anything on the market. This guitar sounds good. It's resonant and strong, it has a chunky neck, and even a sexy rosette in the middle!
So, the features: this dreadnought six-string (see full specs) utilizes a white wood body with spruce top, and a nato neck with 25-3/8 inch scale length and a rosewood fingerboard with 20 frets and dot inlays. Further on up the road, we're looking at a dovetail neck joint and a set of nickel covered tuners.
Rogue RA-090 Acoustic Guitar Sound VS. A Fender DG-11
Jasmine S35 Acoustic Guitar
Jasmine instruments are built to be reliable and affordable for beginners of all ages. The Jasmine S35 Natural Acoustic Guitar has a simple, straightforward design that lets you focus on the sound. The combination of smooth action and consistent construction quality is what's earned it a spot on our list.
The tonewoods used in the Jasmine S35 are on-par with what you should expect from an acoustic in this price range. It uses spruce for the top, giving it a nice percussive attack on the front edge of notes. The back and sides are laminate, so it does lack some resonance compared to pricier guitars. Having said that, though, the tone has a decent round warmth for the price.
We also like how easy-playing the Jasmine S35 Acoustic Guitar is. It uses a relatively slim neck that fits comfortably in an adult's hand. The finishing on the rosewood fingerboard is good, too—no jagged edges on frets or other problems that will impede your playing.
The Jasmine S35 Acoustic also gives you good playing versatility. It comes with a built-in peg for a strap so you can play it standing, and the dreadnought shape rests comfortably in your lap for sitting players. Overall, it's a well-balanced and well-made guitar.
Main Street Guitars MAS38SB Acoustic Guitar
Another awesome pick of the low-budget realm – the MAS38TR from Main Street Guitars. Utilizing a slightly smaller body, this instrument is perfect for younger players, featuring a classy cutaway body with linden top, back, and sides.
The six-string is very practical and well-suited for travel, but also packs a quite decent punch, with a slightly richer middle-range groove and a distinctive rattle.
In the rest of the mix, we're looking at a maple fingerboard attached to a mora neck, as well as a sleek set of chrome tuners and brass frets.
Overall, this is a very solid buy. It stays in tune exceptionally long – as long as you regularly change the strings that is – perhaps longer than any of the six-strings on the list. It's resonant and has the looks. Basically, you can actually start an amazingly rewarding hobby and perhaps even a stellar musical journey, which is kinda mind-blowing when you think about it a bit.
Main Street Guitars - Logan, UT
Bailando 40-inch Cutaway Mahogany Acoustic Guitar
Bailando guitars are designed to be easy to play. This makes it a great choice for beginners and students. The use of actual tonewoods instead of laminate gives it that full-bodied sound you want from an acoustic guitar. The classic combination of a spruce top with mahogany back and sides gives the tone a blend of precision and warmth.
Another thing that makes the Bailando great for beginners is that it comes with all the accessories you'll need. This includes a gig bag to carry and protect it and a shoulder strap for carrying, as well as other helpful supplies like picks, strings, and a capo.
This is a beautiful guitar, too. It uses a single-cutaway design. Along with giving the guitar a nice profile, it makes the upper frets easier to access. The inlay around the sound hole is a nice decorative touch, enhancing the natural beauty of the wood. This is a guitar you'll feel proud to bring out to play with your friends, and it's durable enough to stand up to years of playing.
Bailando 40 inch cutaway spruce acoustic/electric guitar form Amazon
The Best Acoustic Guitars Under $100: What to Look For
We'll be honest with you – there's a lot of garbage out there within the given price range. We had to sift through many instruments that are basically children toys and not something you can practice on. The first thing to watch out for is that hollow ukulele-like sound. If a guitar makes that, avoid it.
Secondly, if the guitar has a decent sound you'll want to see that it has as much bass power and resonance it possibly can. Instruments from this budget range tend to struggle with delivering lower frequencies, so make sure to always test out the thicker strings.
Finally, watch out for cracks and damages. Cheap stuff tends to be on the fragile side, and any damage can be impossible to repair.
With all that sorted out, we can say that the four fellas we listed here match those criteria to the full. Would we recommend venturing out and buying another guitar. Maybe, but it's best to stick to these four lads. They're the best acoustic guitars under $100 that we could find. Good luck!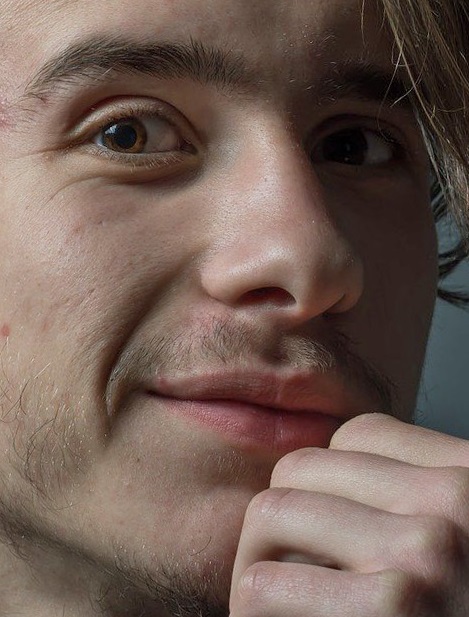 Micah Johnson started playing music in high school, when he taught himself the bass to join his friend's band. He added guitar and drums during his twenties playing in local clubs, and along the way, he picked up unique, hands-on experience from hand drums to studio mixers. On Song Simian, he aims to share this knowledge from 20+ years playing and recording music. When not in gearhead mode, he enjoys photography and travel. Email him